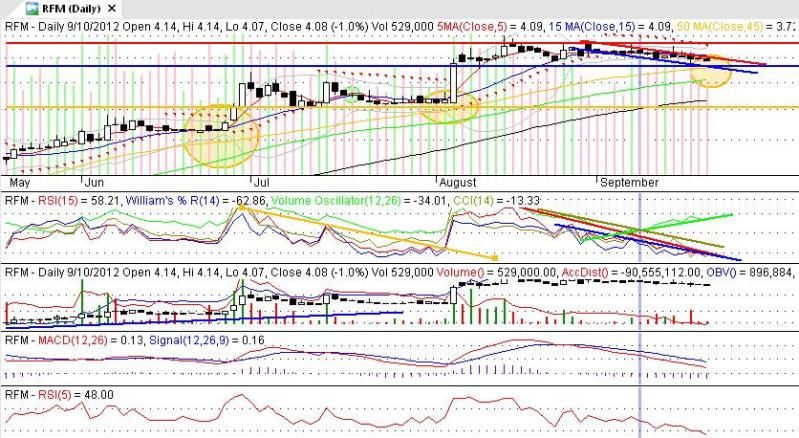 spot the difference?
prior to the initial run up on 080312, RSI(15d) and williams were on a downtrend (but did not break support), CCI was flatlining, ADL & OBV were both above the trading price, RSI (5d) was of no use. OSCV was also down. price is on the middle of the bband and simply flatlined.
during this new consolidation phase after the run up on 080312, RSI (15d) and williams were again on a downtrend (has not broken support - yet), CCI was on a downtrend, ADL has now shown a very clear divergence, RSI (5d) has now broke support. OSCV is up. price is on the bottom of the bband, is not flatlining but is on a killing me softly downward channel.
during the first run up, the 50dMA served as a support level, this is a pretty strong support since it has not been broken this year. it also coincides with it's horizontal support during that time.
i don't really like the setup, but let's see if this support level will hold (horizontal & 50dMA) in the next few days.
buy high, sell higher!

stock market abbreviations (for newbies)
http://www.stockmarketpilipinas.com/post...g#pid11738

"when it comes to trading, i'm just barely smart enough to realize that i'm a total idiot. i might be considered stupid, but on the intelligence scale, it puts me comfortably ahead of all the dumber people who thinks they're better than me."